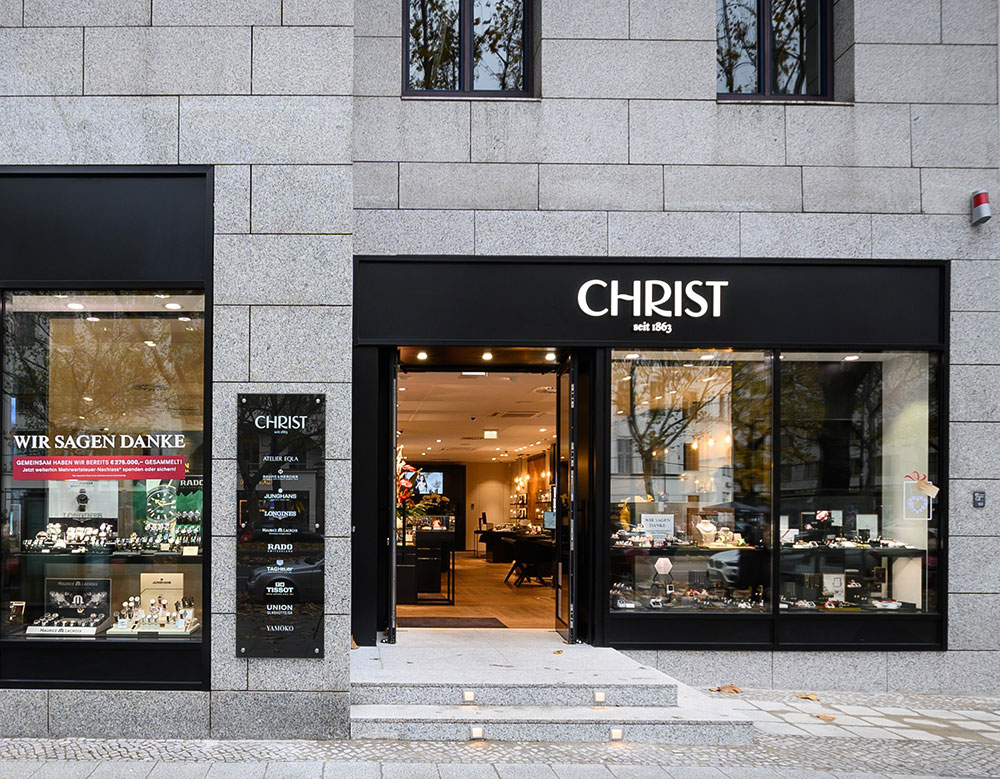 LEARN MORE ABOUT CHRIST seit 1863
CHRIST has been the leading omnichannel retailer among jewellers in German-speaking countries since 1863, currently operating more than 200 stores in the mid to upper price segment in Germany and Austria, supported by a modern online shop with multi-channel offerings.
WHAT DOES CHRIST SEIT 1863 REPRESENT?
Since 1863, CHRIST has been dedicated to offering enthusiasm, inspiration, and joy for its customers as they purchase jewellery. The selection and top service make sure of this.
CHRIST combines many years of experience, comprehensive expertise, and a flair for high-quality jewellery and watches. This is reflected in its 24/7 online service as well as the individual, personal advice available in its stores.
FOR EVERY PROMISE. CHRIST.
Jewellery and watches always represent a symbolic promise. The value of jewellery is timeless as it accompanies its wearer through many phases of their life. Jewellery equals a promise of love, loyalty, friendship, and often serves as a lasting reminder of emotional occasions. This is why the purchase of any piece of jewellery always equals a promise to oneself or to one's loved ones at the same time.
CHRIST honours this symbolic nature of its jewellery with its competence. The promise of a jeweller's competence includes not only traditional craftsmanship skills but is also founded on the quality of CHRIST jewellery, perfect service, passion, beauty, and lifestyle. CHRIST uses its promise of jewellery expertise as a guiding principle that covers all of its employees in the stores or at the CHRIST headquarters alike. They all stand by their promise to support every customer with empathy, top service, and personalised advice in order to guide them into a world where they can find just the right piece of jewellery for their specific, individual needs.
EXPERTISE. KNOWLEDGE. CRAFTSMANSHIP. EXPERIENCE.
What characterises CHRIST as a jeweller? Beyond the vast range of brands and jewellery that define CHRIST's unique position as a leading jeweller, the outstanding service and cross-generational jewellery expertise that has been firmly rooted in CHRIST's DNA since 1863 distinguish the company. This jeweller's competence grows from a number of elements. On the product level, CHRIST's craftsmanship combines traditional knowledge of stone and material expertise with passion for design and a feel for the spirit of the times into unique pieces of jewellery. The unparalleled service adds to the product range to make CHRIST special. CHRIST understands its customers' wishes from repairs to individual design options and personal engravings. It has long been a trusted partner for special occasions such as weddings, communions, and other milestones in life.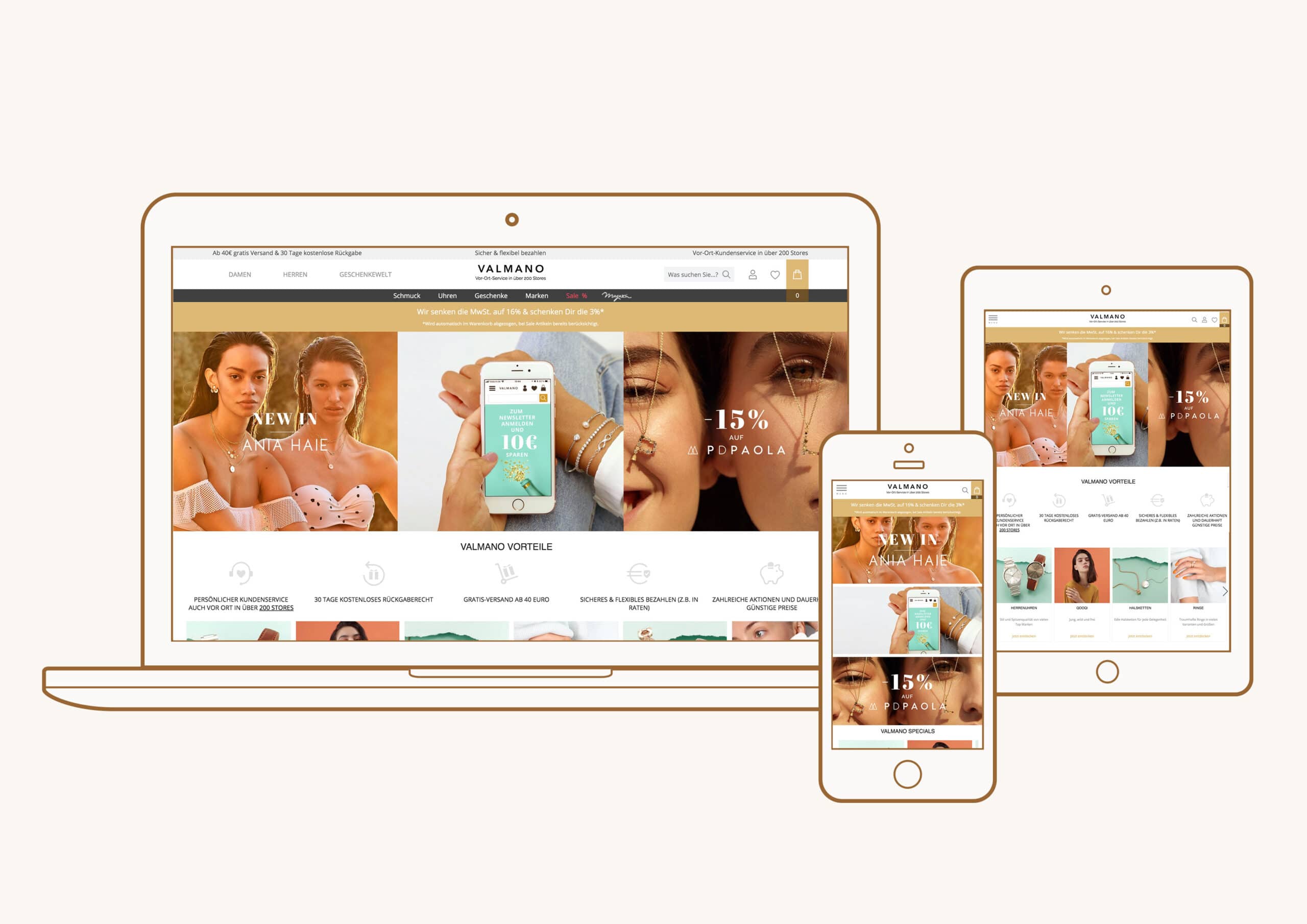 Founded by ProSiebenSat.1 in 2013, online jeweller VALMANO became part of the CHRIST portfolio in the spring of 2019 to strengthen the group's trend and lifestyle segment. With its diverse product range of designer watches and jewellery, the retail brand and online retailer is aimed specifically at a young and fashion-savvy target group while also gradually establishing itself on the international markets. In addition to France, it is already in the process of conquering Austria, the Netherlands, Belgium, and Sweden.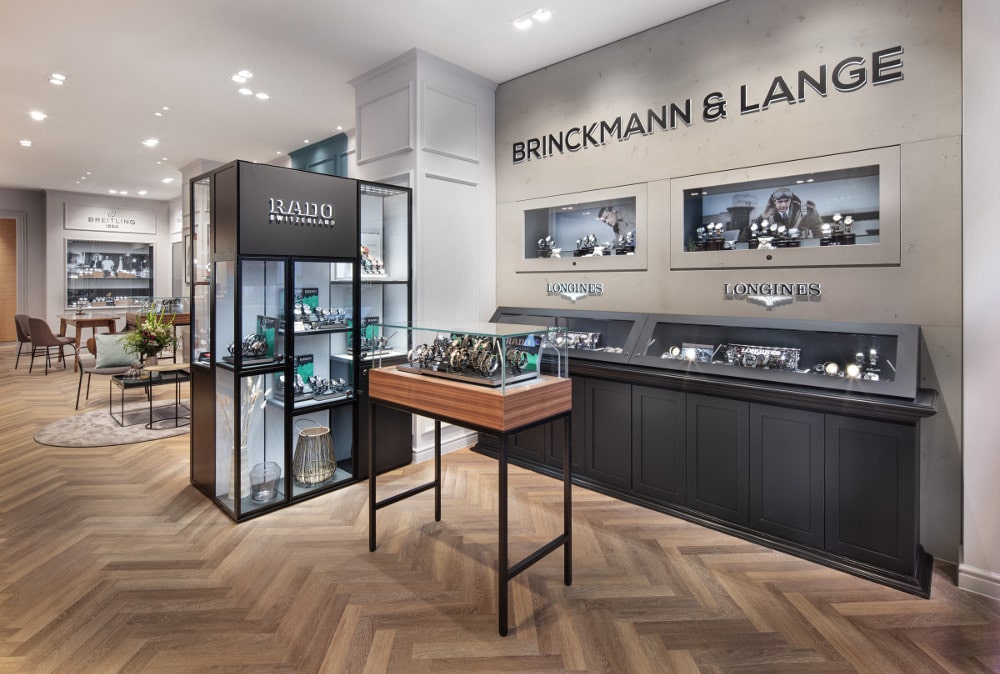 Learn More about Brinckmann & Lange
There are currently five BRINCKMANN & LANGE boutiques in the country. The flagship boutique in Leipzig has been supplemented by four additional ones in Frankfurt/Main and Stuttgart. The large online shop www.brinckmann-lange.de supplements the stationary range with multichannel services, offering access to a network of pick-up stations across the country. The BRINCKMANN & LANGE retail brand represents a modern, approachable jeweller in the premium segment. Revived in October 2019, the brand is still subject to gradual development.
The brand's vision is reflected in particular in the flagship boutique that opened in 2020. Its comfortable interior with living-room feel built by open furnishing elements envelops customers in the feeling of visiting good friends at home. In combination with the world of luxury, this inviting atmosphere and the absence of a doorman emphasise an approachable attitude towards customers that characterises BRINCKMANN & LANGE specifically.
The brand's origins go back to 1874 and can be found in the gold and silverware shop of master goldsmith Adolph Brinckmann in Bremen. His son William and son-in-law Gerhard Lange continued to run the business later. Market leader CHRIST Juweliere und Uhrmacher seit 1863 GmbH acquired the rights in BRINCKMANN & LANGE in 1990, closing the head office in Bremen a decade later for strategic reasons. The BRINCKMANN & LANGE brand saw its modern revival almost precisely 145 years to the day after its founding, on 8 October 2019.